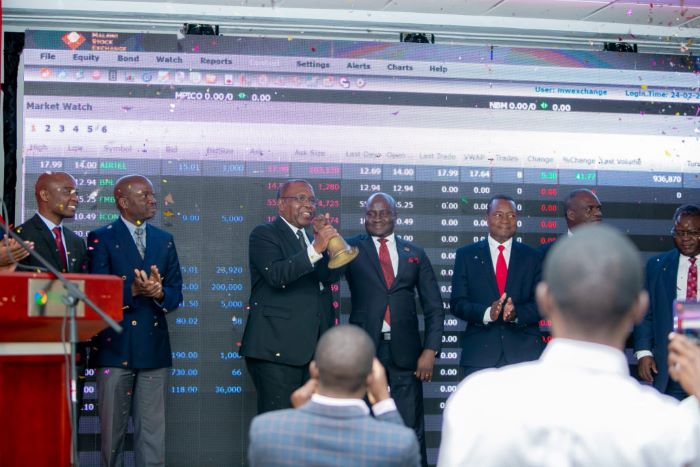 Malawi: stock exchange slows
A monthly market report released by the Malawi Stock Exchange (MSE) showed that trading slowed down on the local stock exchange in July, recording an average daily volume of 1,047,162 shares compared to 7,391,068 shares traded in June 2021.
This reflects an 85.83% drop in daily trading activity during the month.
The report indicates that the market traded a total of 21,990,398 shares for a total consideration of K994,831,445.53 in 298 transactions less than a total of 162,603,497 shares for a total consideration of K4,769,000 833.21 in 326 commercial transactions recorded in June.
However, the market recorded a positive return on the index, as evidenced by the upward movement of the Malawi All Share (Masi) index to 36,496.03 points against 35,144.56.63 points recorded in June.
"This gives a monthly return on the index of 3.85%. The price gains recorded by Illovo at 20.81%, Airtel at 9.9 percent, FMBCH at 8.66%, Limited press company at 8.34%, TNM, National Bank and Standard bank were enough to compensate for the price losses recorded by NITL at 15 percent, Former mutual to 4.11, NBS and FDH Bank resulting in an upward movement of the MASI, "the statement said.
Stockbrokers Malawi Limited CEO Noel Kadzakumanja said the Masi won because it is driven by price changes on the counters and not by the volumes and values ​​traded.
"We should expect an increase in transactions as some of the big players come out of the shutdown period and the Covid situation is expected to improve," Kadzakumanja said.
Alliance Stockbrokers Limited chief operating officer Thokozani Saulosi said in a separate interview that when overall prices rise over a period of time, Masi will rise.
He said the market exhibits seasonal patterns where activity is at will once companies' financial statements are released, which acts as a trigger in the decision-making of fund managers who are the biggest investors in the market. Marlet.
"We should expect lower volumes and values ​​than in April and May. However, this is not exhaustive as some months activity could pick up and the market registers high values ​​and volumes, "Saulosi said.
MSE operations manager Kelline Kanyangala said some of the decline in trade is indicative of the seasonality factor in business patterns that have been observed over time.
"Looking ahead, we hope that activity should pick up once most companies start reporting their half year financial results.
"However, we are also aware of the downside risk posed by the Covid pandemic which, we have observed, causes a slowdown in activity when positive cases increase," Kanyangala said.